Blackmail Mistress Updates
First, let's get some updates out of the way. I have been having some pretty serious issues lately in My personal life, so My blackmail Mistress blog has suffered. I'm sorry to be so inconsistent, but some things can't be avoided. To read all about them, check out the blog on My main site: Hospitals Suck!  But if you're not really interested in My personal life and just want to see your Blackmail Mistress being sexy, I made another blog with a free sexy clip! Here's a still from it to get you primed to see the real thing…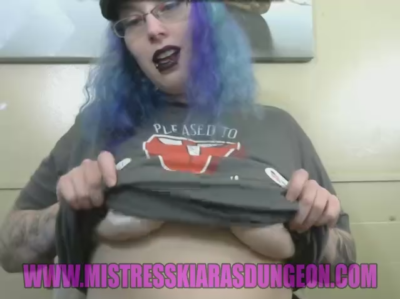 From the blog post "I Voted" on My main site!
One more small update that should interest you is My mailing list. I have finally fixed the mailing list!!! The list was not accepting new signups, but I've switched over to another service and now it's fixed. To sign up for My mailing list, go to Blackmail Mistress Kiara's Mailing List signup page on My main website.
Blackmail Mistress Tools of the Trade
Now let's talk about why you're really here… you came to My blackmail fetish website because you want to hear about how I blackmail My slaves. If you look at My Exposed Blackmail Slaves page, you can see just what type of skills I have in regards to blackmailing and outing slaves… Obviously, I can't give away ALL of My secrets. I wouldn't be the best Blackmail Mistress on the internet if I did that, now, would I?
I'll be honest, a lot of My blackmail slaves simply give Me their information up front. They fill out their personalized blackmail contract, return it to Me, and pay for it, then the fun starts. Easy as pie. But some of you don't like pie. It's not everybody's flavor, right? So exactly how easy is it for your blackmail Mistress to get information on you?
Well, I'm not going to lie, it varies from slave to slave, and if you don't give Me anything to work with I'm not going to be able to do anything. There is no magical website where putting in your Niteflirt screen name "blackmail boi 69" will bring up any personal information unless you've pissed off another blackmail Mistress and she still has your info and pictures posted on her blackmail website along with your ID, and that's assuming you haven't just changed your ID. So let's see what I can do with what little information most boys are willing to give Me – name and city.
Blackmailing With The White Pages
Let's start off with something everyone has access to – the White Pages website. This is an edited screenshot from a search I did for a blackmail slave who gave Me only his name and city. With JUST THAT information, your blackmail Mistress was able to get his mailing address and the ability to pay a small fee for his phone number as well.
Some of you may be thinking – so what? Is my blackmail Mistress really going to pay for more dirt on me?? Well, let Me tell that I have and I will. Because think of the damage I can do with this information… Sure, everyone has a cellphone now so you can easily block any incoming calls from Me before your wife sees. But can you really guard your mailbox all day every day?
Can you imagine what would happen if I printed out the chat log of our conversation with you giving Me your name and where you lived, saying you wanted to suck cock at a gloryhole for a blackmail Mistress, saying that you had actually BEEN to a gloryhole but then chickened out and were not seeking a blackmail Mistress to get you to achieve your dream of sucking a real cock? And this guy here, Mr. NV from NM, has gone into pretty explicit detail about how he wants Me to blackmail him to do it bare – no condom. he wants to catch a disease so that he's forced into chastity for the rest of his life and unable to have sex with his wife anymore because he doesn't want the disease to spread. What would she think if I printed all that out and mailed it to her? Wow!
Blackmail Using Facebook
Continuing on with the example of Mr. NV from NM above who gave his blackmail Mistress ONLY his name and city, let's see what I found about him on facebook. Some of you are smart enough to have your facebook pages set to private so that any Blackmail Mistress searching your name can't find out anything, but not this guy! And honestly, not most of you. Most of My blackmail slaves are either too stupid to think about it, or they secretly want to be found out and exposed by a blackmail Mistress so badly that they intentionally leave their profiles visible…
So let your blackmail Mistress go over this with a fine-toothed paddle for you… Just in this one section alone I can see so much blackmail information to use against him! Starting at the top, his header image is a HUGE picture of him with a couple friends.  His profile picture is of him as well. Now I know what this guy looks like, so any blackmail pictures he sends Me can be paired up with his face. your friends and family might not recognize you on your knees in a gloryhole, sure. But now I have images to put next to the blackmail photos so friends and family will recognize him.
…OR work colleagues and his boss… Because I also see that he has placed his place if business and the position he holds at that business on his facebook page as well. It never ceases to amaze Me how easy it can be being a blackmail Mistress… Moving down the line, I see that he went to college. With this information, I can find his graduating class via a simple google search of his college and graduating year. He's also married, so I know he has a spouse he's hiding from. I bet his wife probably wouldn't be too happy that he's talking to (and spending money on!) a blackmail Mistress…
The last little section is his family relationships on facebook. NV from NM has literally given Me a means of contacting his son if I was so inclined! Not to mention all of the rest of his friends. And those friends are organized into categories for Me based on how he knows them. Like, seriously, you may as well have filled out the blackmail contract and handed it to Me with your wallet, dude!
Going into his Facebook pictures tab, I can see that he has uploaded pictures of himself and his friends. Those aren't super interesting. I can get pictures of him doing whatever I want at this point. The interesting pictures are the ones of him hugging his wife… Now I have a picture of his wife as well. At this point, is there really anything he wouldn't do for his blackmail Mistress?
Conclusion on Blackmailing?
It's pretty clear that even with just these two little bits of information, I can fuck your life up. This literally took your blackmail Mistress a couple hours. It would have been quicker if I didn't pixellate all of his information out too. So to those of you who challenge Me to find information on you, let this be a lesson. I can, and I will. And if you don't keep Me happy, you will be royally fucked.
Has all of this turned you off to the idea of being My blackmail slave? That's fine. I still have plenty of blackmail fetish content that you can enjoy. Here are some of My top selling blackmail fetish clips!
| | |
| --- | --- |
| Approaching Me for Blackmail Properly |   |
|   |   |
|  Fear is Just Another Word for Excitement! |   |
|   |   |
|  Brainwashing Blackmail Tit Tease |   |
|   |   |
|  Foot Piggy Blackmail & Progressive Financial Domination |   |